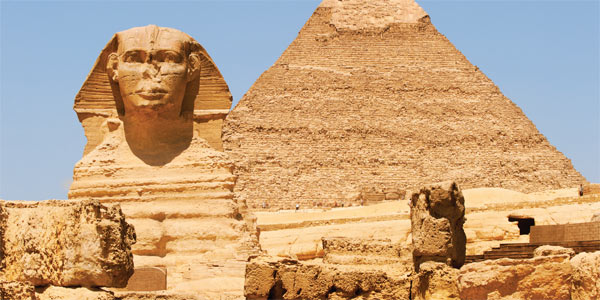 Adventures by Disney® Egypt itineraries allow your family to discover the spirit of a land of ancient history and timeless mysteries.
The adventure begins in the heart of fabled Cairo where you will encounter phenomenal treasures at the Egyptian Museum of Antiquities and stroll through the bustling Khan Khalili marketplace. A ride of a lifetime awaits your family in Giza as you embark on camelback ride past the Great Pyramids and the enigmatic Sphinx. In Aswan,  board the M/S Tulip for a three-day cruise down the Nile River to majestic Luxor. Once on the West Bank of the Nile, you will visit the Valley of the Kings where you will delve into the secrets of Tutankhamen's Tomb and explore the fascinating world of the pharaohs. Finally, your family will enjoy seaside fun while snorkeling the vibrant reefs of the Red Sea at Ras Mohammed National Park.
These 7- and 9-night itineraries offer an unforgettable encounter with one of history's most fascinating civilizations. Just see for yourself!
For more information on Adventures by Disney's Egyptian itinerary, or other Adventures by Disney Destinations, please contact  me:
rhonda@magicalmemoriestravel.net
866-610-0499
****Adventures by Disney has been named the World's leading Luxury Tour Operator and North America's Best Luxury tour Operator by the 2009 and 2010 World Travel Awards.